Propane Tanks at Your Cottage
Propane Tanks at the Cottage
- Most cottage areas will not have natural gas available so the options may be Propane, Oil, electric, heat pumps, wood, solar or a combination of. If you are planning on building you will need to make some choices prior to construction.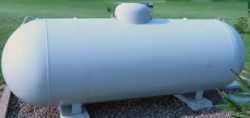 Due to the nature of access of many cottage properties sometimes delivery might be an issue.
If the property has propane be sure to ask who delivers, when or the latest they usually come in the season and how much if usually takes to fill the tank?
A simple question to ask and may save you a few headaches later.
Having only a propane source can create issues in our Ontario climate.
Very cold temperatures and propane do not go well together, the propane can stop flowing. As such you may need an alternate backup source, perhaps electric.
The great thing about having this heat source is you can also install a gas fireplace if you do not want the wood stove for heating. Cleaner and easier to look after.
You can also hook up your system to the BBQ straight to the source. No worries about filling small propane tanks anymore.
A great thing is it is non- toxic and is not harmful to the environment.
Even a large spill may only result in freezing of plant life in the immediate area. There are no long term effects even if ignited; which is the most relevant danger. Compare that with an oil spill near a lake!
What size of Propane Tank does a Cottage Need?
There are a variety of sizes that you may see when looking at a cottage or looking to build. They may range in size from 100 gallons to usually a 500 gallon propane tank.
Refills will be dependent on the amount of time you use the cottage in the winter. Usually the 500 gallon tanks are used for recreational properties that are available for year round use.
Island properties can have a variety of items if electricity is not available.
You may find portable propane heater in a cottage also. This unit allows you to move it from area to area depending on the need. The units use a only a standard sized tank. There are many different sizes, strenghts and types on the market.
The size of heater required to heat an area depends on the BTU rating or British Thermal Units. A 10 by 10 room needs about 10,000 BTU's to properly heat. A large luxury cottage of 5,000 square feet will need around 200,000 BTU's.
Hopefully this can help you make a calcualtion of the heating system in the cottage.
There are a variety of other systems that you can use through this fuel source. Some are listed below.
Fridge


Tankless Water Heater


Smoker


Mosquito Killer


Outdoor Heater

Overall this is realiable, a very green source of heat and for cottage country...environmentally friendly.



Ontario Cottage-Back to Home