Renting a Cottage, Some Tips and Advice
RENTING A COTTAGE
List It Here (sorry coming soon)
Click Here
for a rental listing.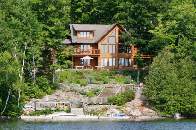 List Your Cottage Rental Here!

Write a story about your lake!
Take your time and write a great story
Follow the link for details It's easy and helps the site out and your rental too!
Families considering renting a cottage
are searching the internet to narrow their choices and make their vacation property selection; they are comparing all of the features you describe on a site and in others on the web.
When writing about your property, be honest but captivating in your description. Repeat clients and new clients through word of mouth take a lot of headache about renting again.
Pricing
Look at other properties and the pricing they are charging, you want to competitively price your property.
Pictures
USE GOOD PICTURES. They say a picture is worth a thousand words and first impressions are lasting! If the first thing they see is a blurry image of your property they will most likely move onto the next, use the best pictures you can get.
Child proofing
Is your cottage a great place for small children? If it is, have a good look around and fix anything that could cause an injury. You may want to consider adding a few features to make the parents stay easier.
Cleanliness
Nothing will tick a renter off faster than having to clean up the property- so much for the repeat business, and the word of mouth won't be the way you want it!. After the previous renter leaves inspect the property. If you don't have time, consider a management company or a local cleaning lady and/or handyman.
Call-back
If someone has called you to rent your cottage, call them back immediately.Immediate response answers are needed. If you don't call they will probably move to the next listing
Availability (Availbility Calender Coming Soon!)
If you are using an availability calender on the net, update it when you have the property rented. You can stop wasting time on phone calls that you don't need.
Renting a Cottage-Back to Home Page