Site Statistics
The following is to show the site statistics until May 2013, this page will be updated regularly to confirm any site claims and stats that are stated by myself.
You will notice the monthly totals for visits, the drop off in September is for two reasons.
Summer 2013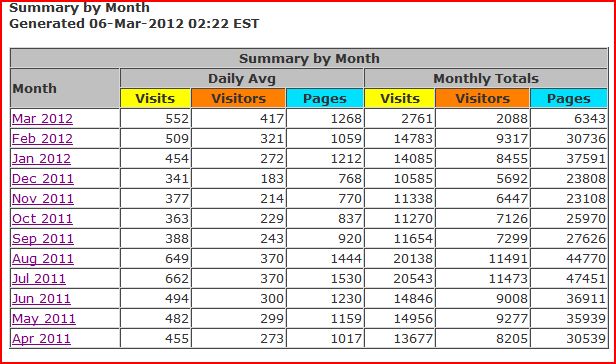 I also have to disclose how I make money from the site...laws!
1- Real Estate of Course
2- Real Estate referrals- I gain a percentage of a successful property purchase or sale
3- Those Google ads you see, every time someone clicks on them I get paid.
4- Business Directory Listings- just starting however it is to provide an income
5- Select Business Commissions- I can gain a commission on companies listed
6- Strategic Alliances or Joint Ventures- with other companies and/or individuals this becomes a more unique income model
7- I am a principle in Canadian Waters Vacations Inc. a fractional ownership company creating shared ownership of existing waterfront properties
...about sums it up!!
Site Statistics- Cottages for Sale- Home Page