Small Cottage Plans
Small cottage plans can be found on numerous websites but you need to ensure that you have completed your research before moving forward on building.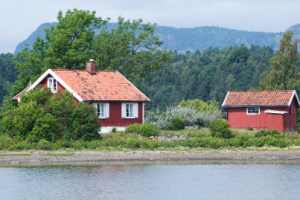 Many families consider that due to the high cost of existing cottages , that building their own little cottage is the most economical way to go.
Perhaps you already own your waterfront lot and are now into the planning stage of building.
You should check with the municipality to ensure that you can build the way you want! Many areas of Ontario have numerous restrictions on the size of cottage you can build; perhaps the building would not be big enough!
Yes, some areas have minimum size restrictions.
If you are considering building and haven't purchased your waterfront lot yet, do some homework into the area you are considering.
Other issues to ensure that you should know are:
Setback requirements


Municipal restrictions


Zoning issues


Conservation authority issues


Required permits


Septic installation or perhaps


Grey water systems

Proper planning is essential to ensure trouble free and efficient building of your dream getaway.

Consider the future and what you may complete on the property in years to come. Plan ahead to ensure you are able to complete all your plans as dreamed.



Small Cottage Plans-Back to Top of Page

Cottages for Sale-HomePage