Welcome to Ontario Waterfront Cottages!
Have you found your cottage yet?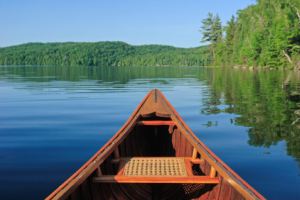 Quiet Canoe Ride
You have probably noticed that there are a lot of cottage websites.
Cottages for sale, cottages for rent, not a lot of information about buying a cottage.
Can you find a reference site with tips and information?
Do you know what to watch for when buying a cottage or waterfront home?
This site is continually being improved and updated so check back frequently.
If you find it helpful share it with a friend or bookmark it.
We have the vacation opportunities everywhere!
From the 1000 Islands through the Land o' Lakes. In Prince Edward County and the famous and beautiful Sandbank's Provincial Park beaches on Lake Ontario.
Maybe you prefer the Kawartha Lakes, the Haliburtan Highlands or even the pricey and famous Muskoka's.
The Bruce Peninsula or Parry Sound and even to the end of Ontario...never ends does it!
The price of waterfront may be a surprise for some of you!
It is really hard, if not impossible, to find a cheap cottage or even a cheap cottage holiday as even most rentals are priced over a thousand dollars a week.
Starting your search may be a daunting task. There are so many lakes and properties to choose from
(not all lakes are created equal)
.
From your home, a two to three hour radius search can result in hundreds of listings, lakes, waterfront homes, rustic cottages and cabins, luxurious cottages and Real Estate Agents.
Diving at Sunset
It is almost impossible to visit many of the properties you will find in your search. Somehow in this mass of information you need to get a game plan together.
This is where this site comes in!
Planning and research into a waterfront purchase
can quickly eliminate areas and properties that may not fit your criteria.
Drill down to an ideal location(s), your budget, amenities and your future plans.
This can eliminate wasting time in areas that may not be as suitable for your holiday home purchase.
Have a look through the website.
Thanks for visiting,
Peter
P.S. I hope that you find this Ontario cottage site helpful and informative and I do welcome any feedback you may have.